Chicago Lifestyles: Embracing the City and the Culture
May 8, 2023, by Jessica
What Is The Basic Cost Of Living In Chicago?
To truly immerse yourself in Chicago lifestyles it's important to understand this dynamic city's cost of living, key factors, and culture. In this article, we'll explore the basic cost of living, seven key factors to consider when living in Chicago, and what the culture is like in the best part of this bustling metropolis.
The cost of living is on par with other major cities in the United States. However, the cost of living can vary depending on the area of the city that you live in. The following are the different categories of costs to consider when living here:
Housing
Housing is one of the biggest factors affecting the cost of living in Chicago. The cost of housing can vary greatly depending on the neighborhood. In general, the closer you are to the city center, the more expensive the rent will be. According to recent data, the average rent for a one-bedroom apartment in Chicago is $1,730 per month. However, it's important to keep in mind that this is an average, and you may be able to find more affordable housing options if you're willing to live further away from downtown or in a less expensive neighborhood.
Utilities
The average monthly cost of utilities for a one-bedroom apartment in Chicago is around $250. This includes electricity, gas, water, and trash/recycling services. Your actual utility costs may vary depending on your usage habits and the size of your apartment.
It's important to take into account and expect that heating costs can be a significant expense during the winter months from December to March. To prepare, invest in warm clothing and blankets, and seal any drafts or leaks in your apartment to keep the heat in. By taking into account all these steps and being mindful of your high energy usage, you can help keep your utility and energy costs within your budget while still enjoying all the city has to offer.
Transportation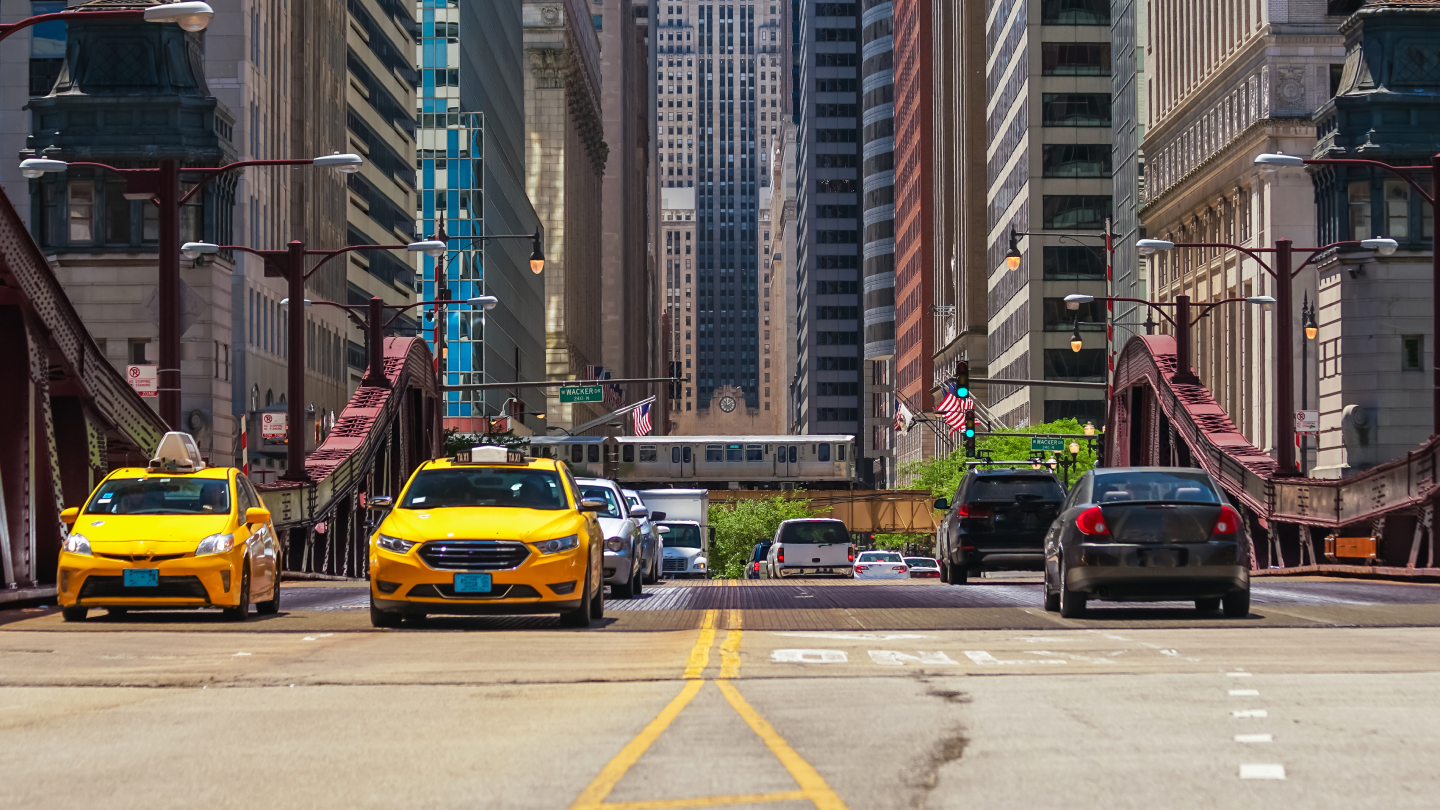 Chicago's public transportation system is a convenient and affordable way to get around the city. The Chicago Transit Authority (CTA) operates buses and trains throughout the city and suburbs, with fare options that include single rides, one-day passes, and unlimited monthly passes. The cost of a monthly pass for unlimited rides on the CTA is currently $105, which is a great value for frequent commuters!
In addition to the CTA, Chicago also has a network of bike lanes and a bike-sharing program, as well as ride-sharing services like Uber and Lyft.
Food and Groceries

The average cost of groceries for one person in Chicago is $333 per month.
If you're looking to save money on food expenses, Chicago's farmers' markets are a great place to start. With a huge variety of fresh ingredients and locally sourced goods, you can prepare delicious and healthy meals to eat without breaking the bank. Plus, with the city's growing focus on sustainability and eco-friendly eating practices, many markets offer affordable organic options.
Entertainment
The city has a vibrant and fun entertainment scene that caters to various interests. From world-renowned museums like the Art Institute of Chicago and the Museum of Science and Industry to other attractions and iconic sports venues like Wrigley Field and United Center, there's always something to do in the city.
The cost of entertainment can vary, but there are plenty of free or low-cost options around town, such as free museum days and outdoor concerts.
Healthcare
The Windy City is home to some of the best hospitals in the country, such as Northwestern Memorial Hospital and Rush University Medical Center. However, the cost of healthcare in Chicago can be quite high, depending on the type of insurance you have. According to mdsave.com, for those without insurance, a doctor visit can range from $150 to $300, and emergency room visits can cost upwards of $1,000.
It's important to note that there are clinics and community health centers throughout the city that offer affordable healthcare options for those who cannot afford the high cost of private healthcare. These clinics provide services such as preventative care, primary care, and dental care at a much lower cost. Additionally, the city offers healthcare assistance programs for low-income residents to help a family cover the cost of medical expenses.
7 Key Factors to Know About Living in Chicago, Illinois
Climate and Weather
The city experiences a diverse climate, characterized by four distinct seasons throughout the year. Winters are harsh, with temperatures dropping below freezing, and snowfall is common. Summer, from June to August is warm and humid, making it a fun and perfect time to explore the city's outdoor attractions.
The spring and fall seasons offer comfortable temperatures and colorful foliage, providing ideal conditions for outdoor activities and sightseeing in parks like Wicker Park and Lincoln Park. Overall, Chicago's climate offers a fun and unique blend of weather patterns that cater to different preferences, styles, and interests.
Job market and industries
Chicago is home to several major corporations, including Boeing, McDonald's, and Walgreens, as well as many startups and small businesses. The city's central location also makes it a hub for transportation, logistics, and distribution. With a highly educated workforce and a variety of industries, it offers many job opportunities for those looking to start or advance their careers.
In addition, Chicago has a robust healthcare industry, with several world-renowned hospitals and medical centers located in the city. The technology sector is also growing, with a thriving startup community and established companies such as Google and Salesforce expanding their presence in the city. Overall, Chicago's diverse economy provides job opportunities for a wide range of skill sets and interests.
Education and schools
Chicago is known for its excellent educational institutions, making it an attractive location for families and students. The city boasts many public and private schools, including several nationally recognized magnet schools. Additionally, it is home to several prestigious universities, such as the University of Chicago, Northwestern University, and the University of Illinois at Chicago.
For families with children, Chicago offers a variety of educational options, including traditional public schools, charter schools, and private schools. The city has invested heavily in improving its public education system in recent years, with initiatives aimed at increasing graduation rates and college enrollment.
Neighborhoods and Diversity
Chicago is a melting pot of cultures, making it a diverse and inclusive city. The city has many unique neighborhoods, each with its own distinct character. From the vibrant Chinatown to the historic Little Italy, there's something for everyone in Chicago.
These neighborhoods are also known for their delicious food, rich history, and cultural events. With so many neighborhoods to enjoy and unique and novel things to explore, you'll never run out of unique and novel things to discover in Chicago.
Safety and crime rates
Although Chicago may have a higher crime rate than some other cities in the United States, it's important to note that many areas of the city are safe and welcoming. It's a city that takes pride in its diversity, and there are many neighborhoods with strong community ties that look out for one another. Additionally, the city has a dedicated police security force that works hard to keep residents safe.
City Parking

Parking in Chicago can be expensive, especially in high-traffic areas like downtown or near popular tourist attractions. Rates can range anywhere from $20 to $50 for just a few hours of parking. It's important to plan ahead and research the best options for parking in the city, such as discounted rates at certain garages or utilizing public transportation instead. Overall, the cost of parking in Chicago can add up quickly, so it's important to budget accordingly when planning a trip or moving to the city.
Recreation and Entertainment Options
Chicago is a city that truly has something for everyone when it comes to recreation and entertainment options. If you're a fan of the arts, you'll find world-renowned museums and theaters like the Art Institute of Chicago and the Chicago Theatre.
For sports fans, Chicago has multiple professional sports teams, including the Cubs and White Sox for baseball, the Bears for football, and the Blackhawks for hockey. The city also hosts a huge variety of annual festivals such as the Taste of Chicago, Lollapalooza, and the Chicago Jazz Festival.
Whether you're interested in dive bars, street food, or fine dining options, Chicago's culinary, restaurants, and bar scene won't disappoint. The city is known for its deep-dish pizza, hot dogs, and Italian beef sandwiches, but there are plenty of other options to explore as well. Chicago is also home to a thriving craft beer scene and numerous bars and clubs for those who enjoy the nightlife.
What is the culture like in Chicago?
Chicago has a rich culture with many unique aspects. Here are some of the key cultural features of the city
Art and Architecture

Chicago is known for its architecture, energy, and creativity and has many famous buildings, such as the Willis Tower and the John Hancock Center. The city also has a vibrant art scene, with many museums and galleries.
Music and theater
Chicago has a thriving music and theater scene, with many live music performances throughout the life of the city.
Sports and recreation
Chicago is home to several popular sports teams, including the Cubs, White Sox, Bears, and Bulls. The city also has many parks and recreation areas.
Festivals and events
Chicago has many fun and unique festivals, attractions parties, activities, and events throughout the year, such as the Taste of Chicago and the Chicago Jazz Festival.
Food and drink
Chicago is known for its food, particularly its deep-dish pizza and hot dogs. The city also has many craft breweries, restaurants, and bars.
Conclusion
In conclusion, Chicago is a dynamic city with high energy, a rich culture, and many unique aspects. The cost of living in Chicago is comparable to other major cities, and there are several key factors to consider when living in the city. Whether you're a foodie, sports fan, business, fashion, music, or art enthusiast, there's something for everyone in Chicago.
And if you're in need of a place to stay, be sure to contact Jessica – she's your ultimate guide to finding the perfect accommodations.
BACK TO THE MAIN BLOG PAGE